PRODUZIONE MACCHINE ED IMPIANTI PER LAVORAZIONE FORMAGGI

MANUFACTURING MACHINERY AND EQUIPMENT FOR PROCESSING CHEESE

FILIPPINI di FILIPPINI S. & C. S.r.l.
Via Dell' Industria , 32
42025 Corte Tegge – CAVRIAGO
REGGIO EMILIA (Italy)
Tel. (+39) 0522 941154 r.a.
Fax (+39) 0522 942446
P. IVA 00266100353
PRODUZIONE MACCHINE E SCAFFALATURE PER MAGAZZINI STAGIONATURA FORMAGGI
MACHINES AND SHELVING FOR CHEESE MATURING WAREHOUSES PRODUCTION

pag. precedente


Pagina 3/3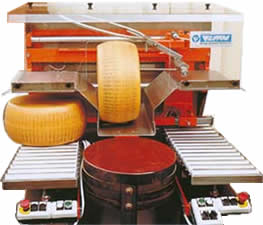 Mod. Sfilaforme automatico "EXPERT"

SFILAFORME AUTOMATICO "EXPERT"
Macchina automatica progettata e realizzata per eseguire il lavoro di espertizzazione-battitura, verifiche e controlli, su forme di formaggio in scaffalatura, con l'impiego di una sola persona.
"EXPERT" AUTOMATIC WHEEL TRIMMER

Automatic machine designed and built for expertise, beating and quality control operations on shelved cheeses, operated by just one person.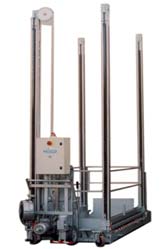 SOLLEVATORE A QUATTRO COLONNE SEMOVENTE
Indicatissimo per le lavorazioni da eseguire in quota, dotato di n. 4 colonne motrici, viene costruito su misura e con portata da 500 fino a 1.200 Kg.
FOUR-COLUMN SELF-PROPELLED LIFTER
Highly suited to operations carried out at great heights, with four motor-driven columns, built to measure and with a capacity of 500 up to 1.200 kg.

SOLLEVATORE OLEODINAMICO SEMOVENTE
Particolarmente indicato per movimentare forme di formaggio e merci in magazzino medio alti.
Generalmente costruito su misura, con portata fino a 500 Kg.
HYDRAULIC SELF-PROPELLED LIFTER
Particularly suited for handling cheese wheels and other goods in medium-high warehouses.
Generally built to measure, with a capacity of up to 500 kg.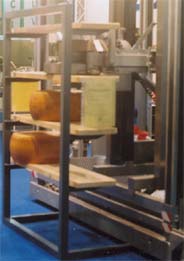 MACCHINA PER LA PULITURA DELLE TAVOLE NEI MAGAZZINI DI STAGIONATURA FORMAGGI, CON ASPIRAZIONE RESIDUI
La macchina è in grado di pulire a notevole velocità la superficie della tavola a contatto con il formaggio e mantenere le tavole in ottima condizione per favorire la stagionatura.
TABLE CLEANING MACHINE WITH WASTE SUCTION FUNCTION FOR CHEESE MATURING WAREHOUSES
This machine cleans the surfaces that come into contact with cheese at high speed, keeping

the tables in excellent condition and facilitating the maturing process.
---
pag. precedente


Pagina 3/3
---
Home | Chi siamo | Prodotti | Dove Siamo | Contatti